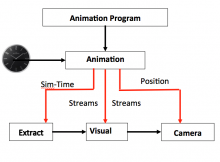 How Data can become a Movie Star?
Published in International Conference on Modeling, Simulation and Visualization Methods, 2013 (Sunday, June 23, 2013)
Abstract
Visualization of scientific data is the art of converting numerical values into an image, which can be comprehended by a human visual system. The conversion process can lead to a movie or an individual image. The creation parameters, like light, viewing position, etc. typically do not change. A movie can be assembled out of images where the creation parameters for each individual image does not change, or each image may have different creation parameter set. This article discusses the second approach, which is a significantly more dynamic and creative approach. We will analyze what existing visualization systems are capable of, and we will present a unique way how to create accurate, but very dynamic movies.
International Conference on Modeling, Simulation and Visualization Methods, 2013