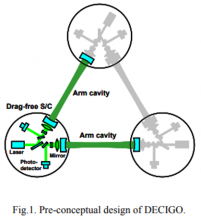 The Japanese space gravitational wave antenna; DECIGO.
Published in Journal of Physics: Conference Series 122, 012006 (Thursday, July 24, 2008)
Abstract
DECi-hertz Interferometer Gravitational wave Observatory (DECIGO) is the future Japanese space gravitational wave antenna. DECIGO is expected to open a new window of observation for gravitational wave astronomy especially between 0.1 Hz and 10 Hz, revealing various mysteries of the universe such as dark energy, formation mechanism of supermassive black holes, and inflation of the universe. The pre-conceptual design of DECIGO consists of three drag-free spacecraft, whose relative displacements are measured by a differential Fabry-Perot Michelson interferometer. We plan to launch two missions, DECIGO pathfinder and pre-DECIGO first and finally DECIGO in 2024.