RIT astrophysicist awarded research leave to study gravitational waves as a Simons Fellow
Posted on 02/28/2022
Associate Professor Richard O'Shaughnessy named a 2022 Simons Fellow in Theoretical Physics
Share on FacebookShare on TwitterShare on LinkedInShare on RedditShare via Email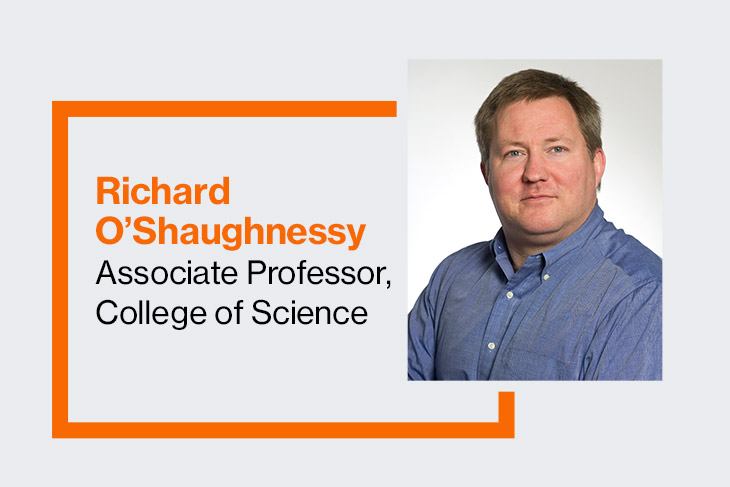 ‌
Associate Professor Richard O'Shaughnessy is one of 10 faculty worldwide named 2022 Simons Fellows in Theoretical Physics.
A Rochester Institute of Technology faculty member was awarded a prestigious fellowship to spend the next year preparing for an "onslaught" of gravitational wave discoveries. Richard O'Shaughnessy, an associate professor in RIT's School of Mathematical Sciences, is one of 10 faculty worldwide named 2022 Simons Fellows in Theoretical Physics. O'Shaughnessy is the first RIT faculty member to receive the award.
The Simons Fellows program extends academic leaves from one term to a full year, enabling recipients to focus solely on research for the long periods often necessary for significant advances. From summer 2022 to summer 2023, O'Shaughnessy will focus fully on research opportunities driven by impending gravitational wave and multimessenger observations.
O'Shaughnessy is a theoretical gravitational wave astrophysicist, developing methods to discover and interpret the ripples in the fabric of the universe produced by merging black holes and neutron stars. He is a member of RIT's Center for Computational Relativity and Gravitation and the LIGO Scientific Collaboration, a group of researchers supporting the U.S.-based LIGO gravitational wave detector.
The LIGO and Virgo observatories are currently undergoing improvements before their upcoming fourth observing run, expected to begin late in 2022. The KAGRA observatory in Japan will also join the next full observing run. With more detectors, potential events can be located more accurately.
"Starting in late 2022, the network of ground-based gravitational-wave detectors like LIGO will turn back on, and regularly find many more mergers," said O'Shaughnessy. "I'm fortunate to be able to prepare for this onslaught of discovery with such a well-timed sabbatical leave. The Simons foundation's support makes it possible for me to prepare and collaborate broadly."
To learn more, go to the Simons Foundation website.