Black hole Nobel Prize winner Andrea Ghez is RIT's 2021 commencement speaker
Posted on 04/21/2021
Andrea Ghez, a 2020 Nobel Prize winner in physics for her research in discovering one of the most exotic phenomena in the universe—the supermassive black hole at the
Andrea Ghez, a 2020 Nobel Prize winner in physics for her research in discovering one of the most exotic phenomena in the universe—the supermassive black hole at the center of our galaxy—will be the 2021 Rochester Institute of Technology commencement speaker on May 14 and 15.
Approximately 3,000 RIT undergraduate, graduate, and Ph.D. students in the Class of 2021 are expected to graduate this year. COVID-19 protocols mandate that the number of people attending commencement be limited, so 13 smaller in-person ceremonies by college are planned to allow qualified students to walk across the stage to receive their diplomas. Most speakers will be virtual, and each ceremony will be live-streamed.
All times and locations are listed on the Class of 2021 website. Tickets will be required for all events and specific information will be sent separately. More information will be forthcoming on the health and safety requirements for all participants.
Ghez, a professor of Astronomy and Astrophysics at the University of California, Los Angeles, and director of the UCLA Galactic Center Group, was honored for her pioneering research on the Milky Way's black hole for "the discovery of a supermassive compact object at the centre of our galaxy."
In July 2019, the journal Science published a study by Ghez and her research group that is the most comprehensive test of Albert Einstein's iconic general theory of relativity near the monstrous black hole at the center of our galaxy. Although she concluded that "Einstein's right, at least for now," the research group is continuing to test Einstein's theory, which she says cannot fully explain gravity inside a black hole.
Ghez studies more than 3,000 stars that orbit the supermassive black hole. Black holes have such high density that nothing can escape their gravitational pull, not even light.
In January 2020, her team reported the discovery of a new class of bizarre objects—objects that look like gas and behave like stars—at the center of our galaxy, not far from the supermassive black hole.
RIT Provost and Senior Vice President for Academic Affairs Ellen Granberg said Manuela Campanelli, a professor in RIT's College of Science and director of RIT's Center for Computational Relativity and Gravity, was instrumental in securing Ghez as this year's commencement speaker. Campanelli was one of six RIT researchers who were among the authors who made the announcement in 2016 confirming the existence of gravitational waves predicted by Albert Einstein's general theory of relativity.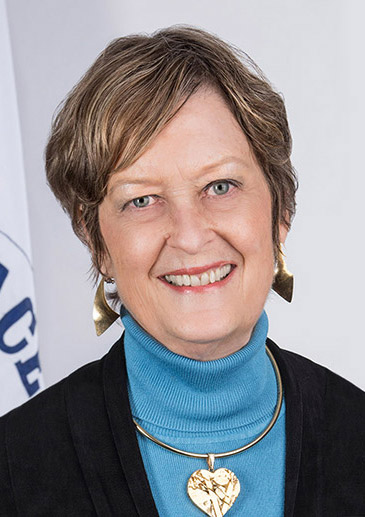 Josephine "Jody" Olsen
RIT's 2020 graduates, who were unable to have an in-person graduation last year due to the pandemic, have been invited to walk cross their own stage on May 16. The commencement speaker who had been scheduled for them, Josephine "Jody" Olsen, who was director of the Peace Corps from March 30, 2018, to Jan. 20, 2021, will be commencement speaker for that class.
The schedule for commencement for 2020 graduates is listed on the Class of 2020 website. A survey has been sent to 2020 graduates requesting a reply if they plan to attend in person. Tickets will be required and participants will need to adhere to all health and safety protocols.
Granberg and RIT President David Munson congratulated RIT's 2020 and 2021 graduates in a recent email. "We've all experienced a year like no other and had to get used to many "new normals," they said. "This year's ceremonies are no exception. However, our pride in the accomplishments of these outstanding young people is unwavering. We look forward to celebrating the success of the Classes of 2020 and 2021 with all of you."
Granberg and RIT President David Munson congratulated RIT's 2020 and 2021 graduates in a recent email. "We've all experienced a year like no other and had to get used to many "new normals," they said. "This year's ceremonies are no exception. However, our pride in the accomplishments of these outstanding young people is unwavering. We look forward to celebrating the success of the Classes of 2020 and 2021 with all of you."